The Art of Monochrome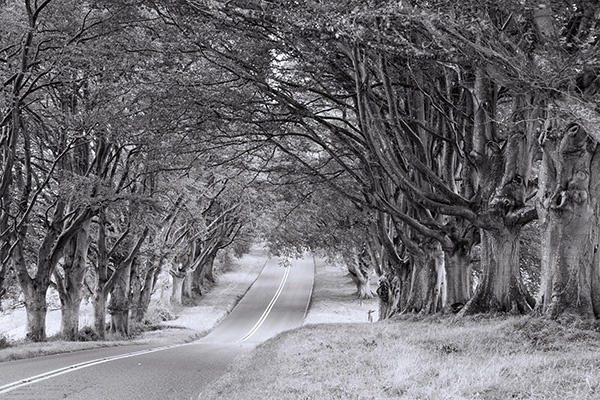 Black and white photographs have a classic appeal which stand the test of time. Without the distraction of colour, we can introduce an air of mystery and atmosphere into our images, an interpretation of reality. A black-and-white image allows us to deconstruct a scene and to re-explore the basic elements of composition, lighting, tonal contrast, texture and form. Monochrome is also the perfect medium for creating stunning minimalist images.
With the use of graduated and neutral density filters along with superb editing software, the opportunities for creating beautiful monochrome landscape photographs are now endless. The key, as always, is getting it right in the camera in the first place.
The Jurassic coast of Dorset is the ideal base for our workshop with a wide variety of subject matter for black and white landscape photography. We will explore the capture of both wide landscapes and close up abstract photographs, how to add creative impact using filters and the use of long exposures to slow the passage of time.
Our workshop is aimed at those wishing to learn the art of 'seeing' the landscape in black and white. We will help you to visualise in mono and how to choose the best light and subjects for effective monochrome capture. We will also be looking at the art of composition and what makes a successful monochrome photograph.
There will be two image critique sessions over the course of the workshop during which both Andy and Sarah will give feedback and advice on some of the images you have captured. The workshop will conclude with a day of post production using Lightroom, Photoshop and SilverEfex Pro2 to bring to life your envisaged images.
More information and how to book
Workshop Fact File
Location

Swanage, Dorset

Tutors

Sarah Howard & Andy Page

Available Dates

November 23rd - 26th 2017/February 19th - 22nd 2018 -

Max group Size

8

Principle Photographic Locations

Swanage pier & beachfront, Pevril Point, Durdle Door, Man O War Bay, Kimmeridge Bay, Corfe castle, Kingston Lacey beech avenue

What's included?

3 days of photographic tuition and demonstrations, all meals

What's Excluded?

Accommodation, transport to and from Swanage, personal insurance eg: Cancellation Plan, equipment insurance, drinks from the bar

Recommended Accommodation

Pines Hotel, Swanage, BH19 1LT

What will I learn on location?

Introduction to monochrome principles -'seeing' in black and white, classic vs minimalist monochrome landscapes, working with the available light, compositional techniques, use of neutral density filters, post production techniques using Lightroom,Photoshop and SilverEfex Pro2

Image critiques

2

Ability level

Suitable for all aside of the complete beginner

Fitness level

Moderate - good - some uphill walking, beach boulders & potential slippery rocks to navigate. Very steep slopes to Durdle Door & Corfe Castle viewpoint

Cost

£450

Deposit

£100

Places remaining

Please call for latest update